조회 수 : 14643
2010.12.16 (15:27:14)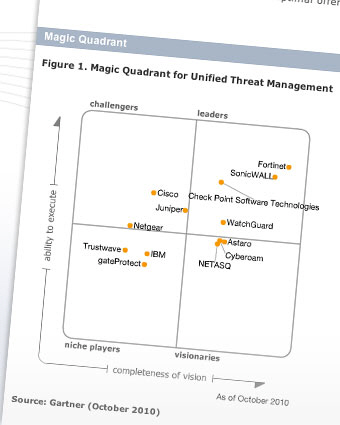 Magic Quadrant for Unified Threat Management
UTM appliances are used by midsize businesses to meet required network security levels for Internet connectivity. For smaller businesses, those requirements are often driven by regulatory demands (such as the Payment Card Industry Data Security Standards), rather than any detailed security/risk analysis.
Gartner defines midsize businesses as those with 100 to 1,000 employees, and revenue ranging from $50 million to $1 billion. However, the majority of midsize business annual revenue is in the range of $100 million to $500 million, with head count ranging from 200 to 1,000. Multifunction network security appliances, commonly called UTM appliances, are frequently used across midsize businesses due to their particular security requirements.
In this UTM Magic Quadrant, Gartner evaluates 13 vendors delivering UTM solutions.